GO BEYOND BASIC FIRE EXTINGUISHER TRAINING
Prepare for Anything

Helps reinforce the R.A.C.E. method (Rescue, Alert, Confine, Extinguish) to build on-the-scene fire responsiveness.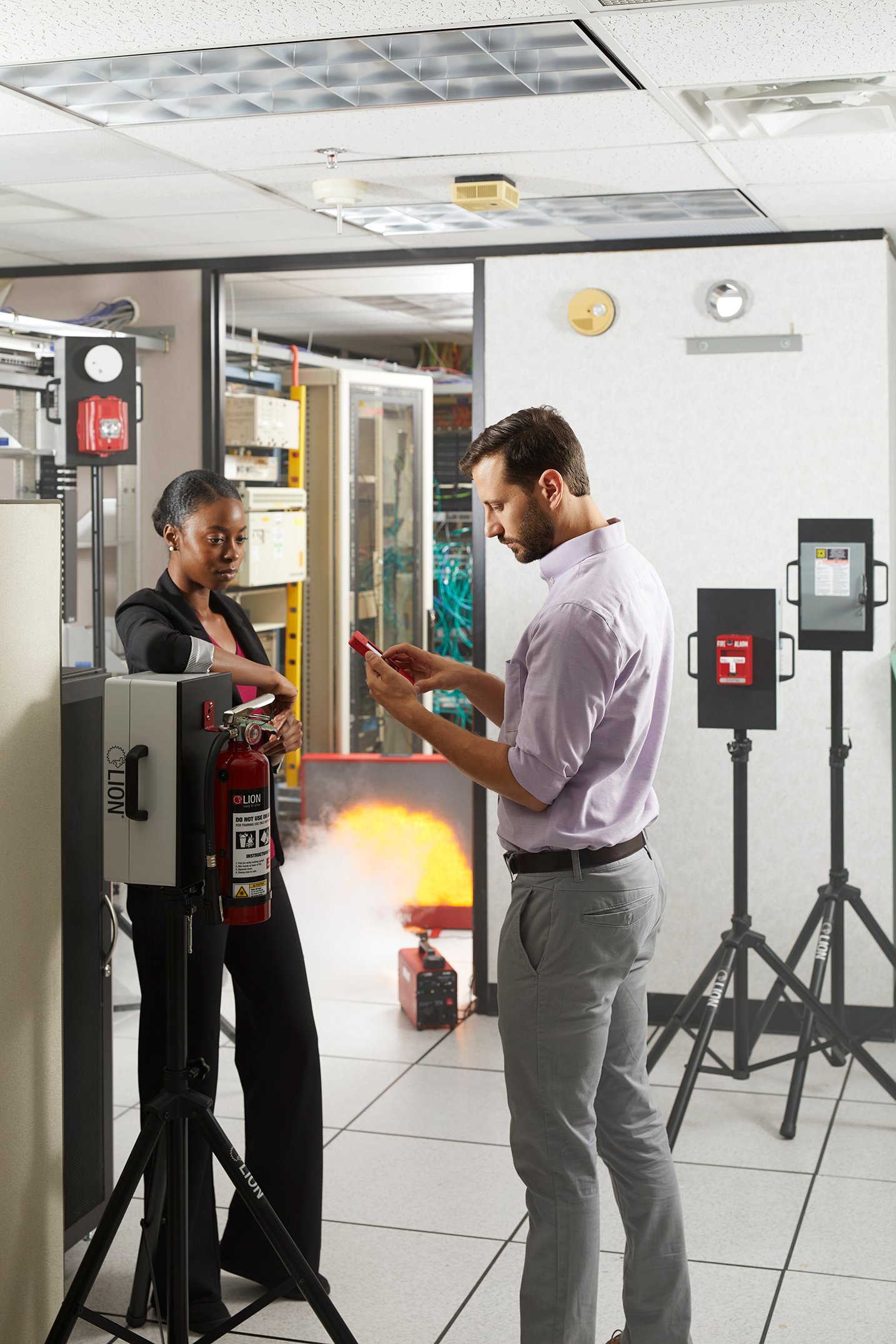 Practice Different Situations

Enables students to make good decisions in an emergency based on their observations.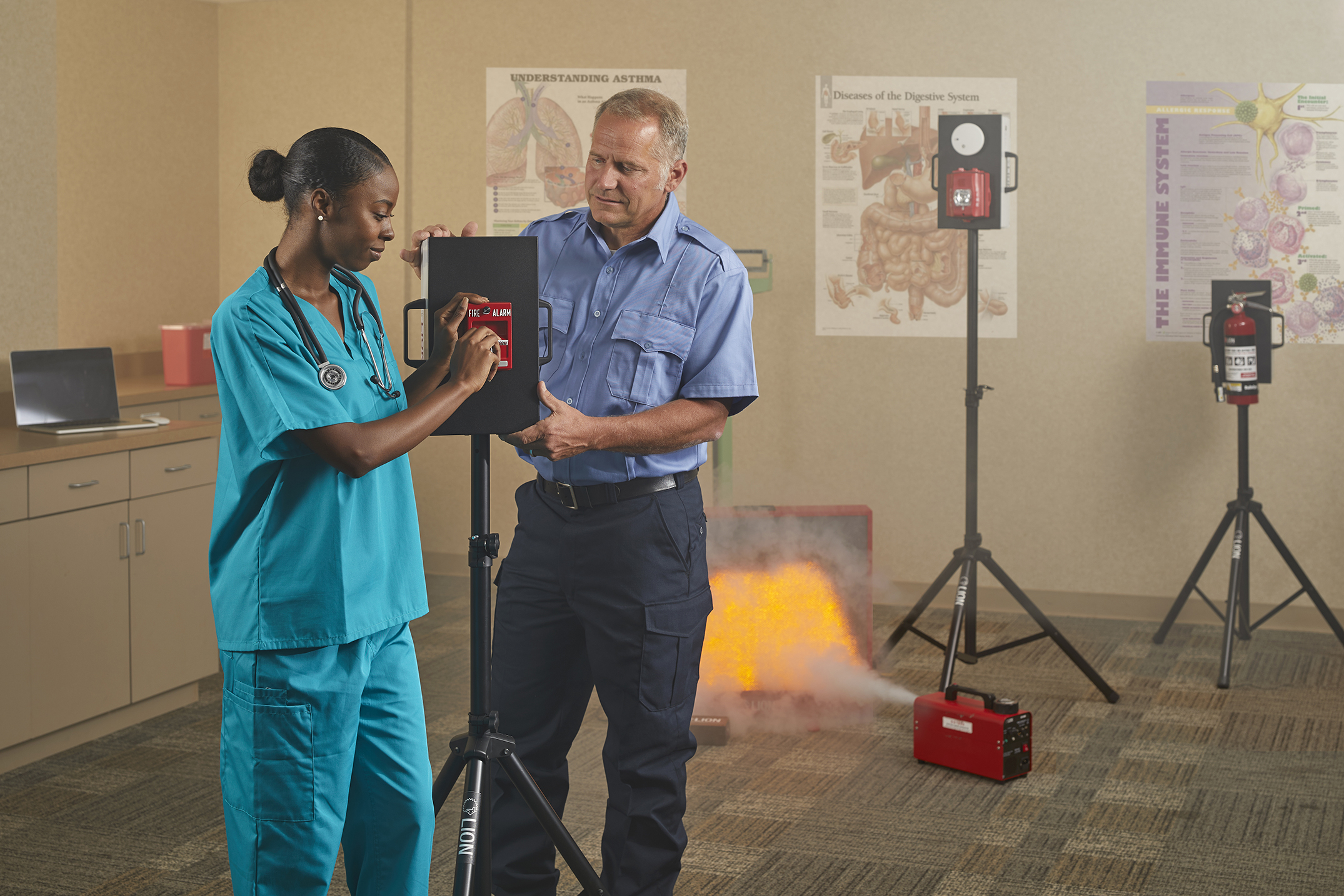 Versatile

Can be used as a standalone unit or with other LION training tools.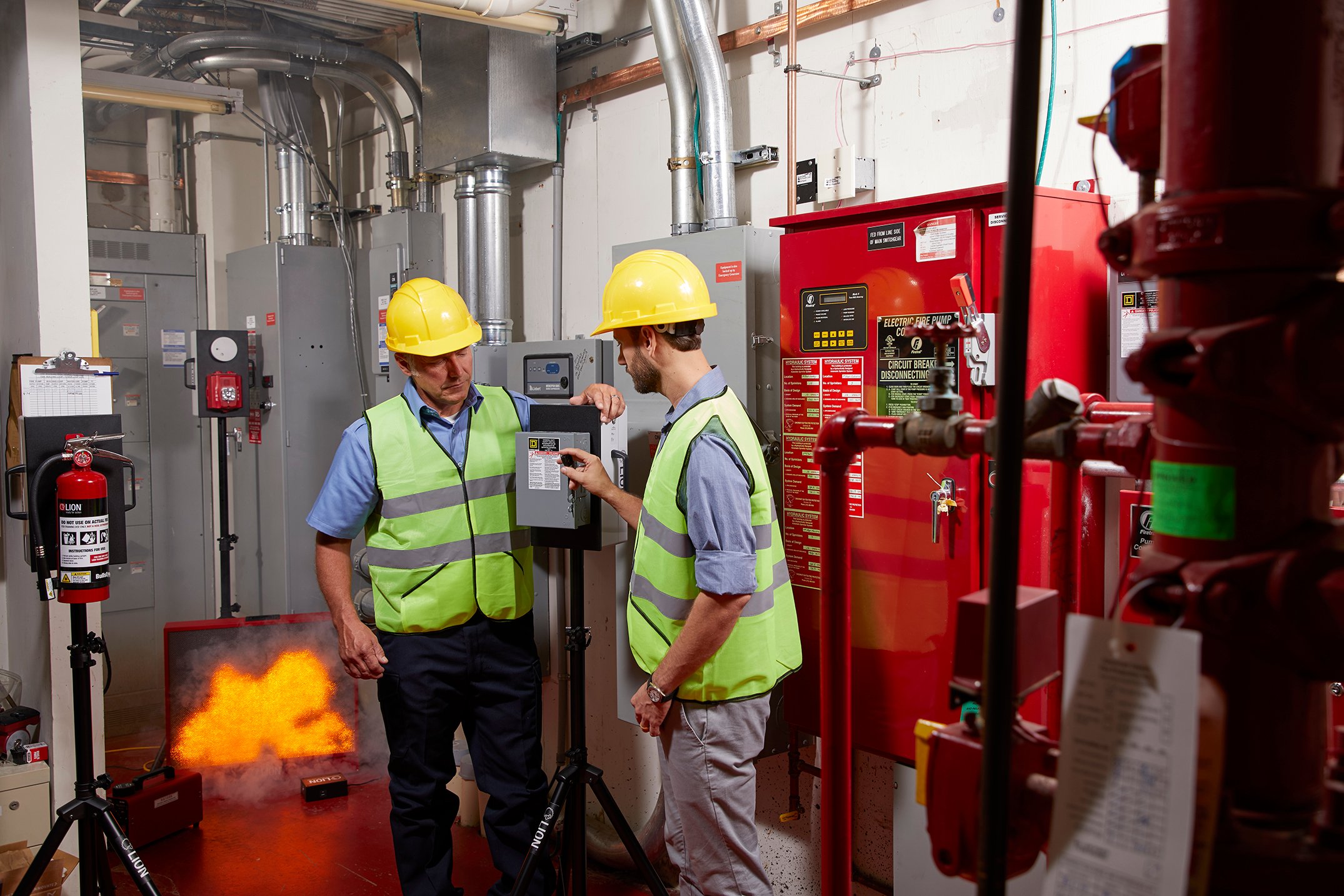 Effective Training

Realistic sights and sounds help students prepare for the worst.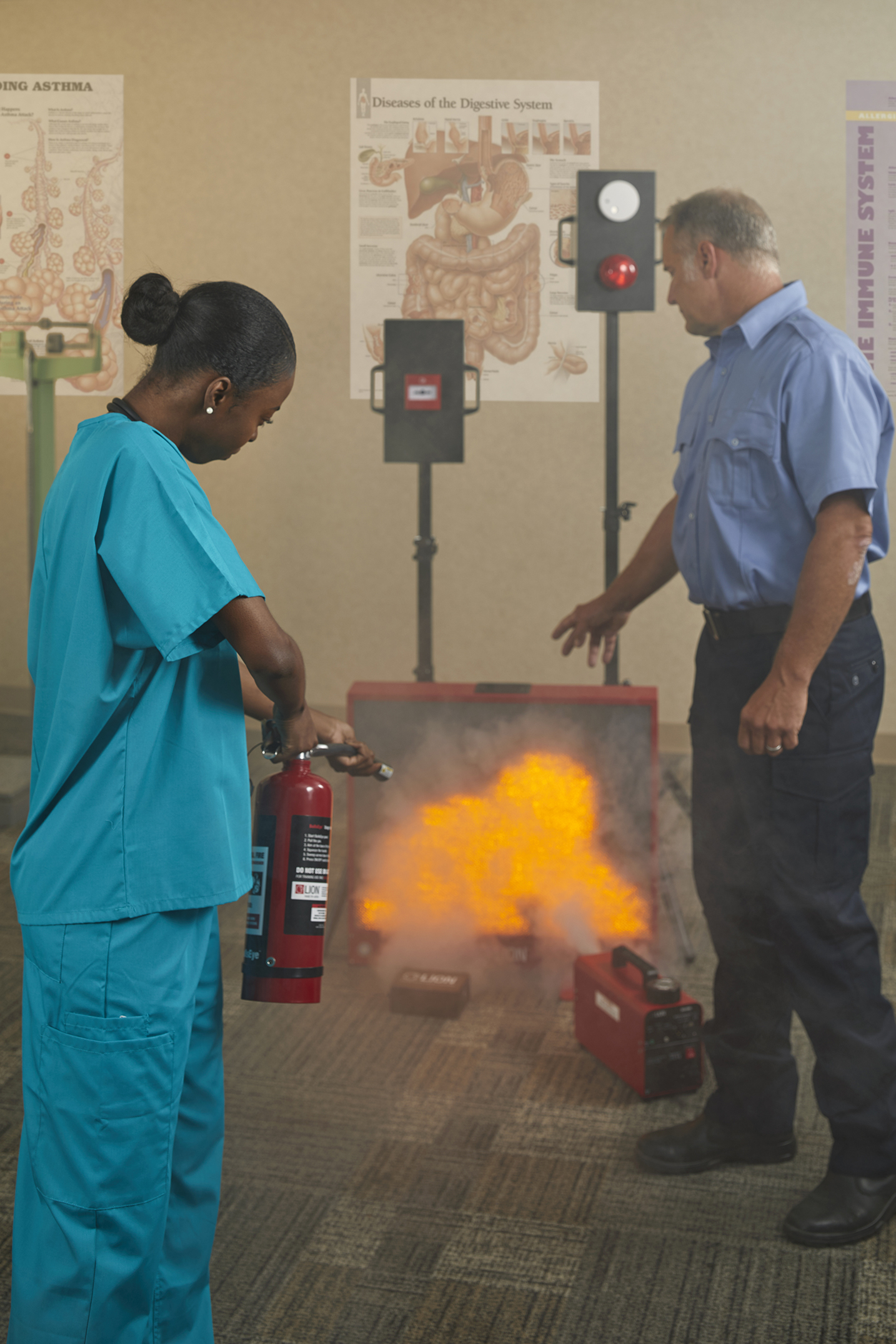 How it Works

Complete Fire Training Solution
Includes a pull station, strobe light and Fire Extinguisher mount, smoke detector, annunciator, and an interactive emergency smartphone that allows students to practice an emergency response from start to finish

Realistic Scenarios
With realistic strobe lights, alarm sounds, and smoke, trainees will be exposed to the same conditions they face in real fire emergencies.

Comprehensive
Pair with the BullsEyeTM Digital Fire Extinguisher Training System, laser-driven fire extinguisher training system, and prepare your trainees with tools they need to respond completely to an incipient stage fire from the moment they see it.

Train Anywhere
Forget classrooms. Lightweight and designed to be transported easily between training locations. Set up the R.A.C.E. Station in your training location where the alarm and extinguisher are actually located.

Coat Description
Underarm bellows - Bellowed underarm construction for better movement
Freedom Elbow - Enables the arm to bend freely while keeping the wrist protected by reducing sleeve travel.
Ergonomic shaping to improve comfort and interface with other PPE elements.
Bi-swing back with inverted pleats in all layers of the system expand as the arms move forward, resulting in no tugging or binding at the shoulder.
Comfort collar and optional throat tab deliver continuous thermal and moisture protection while providing exceptional interface to SCBA mask.
Ever-Dry Reach System - The thermal liner and moisture barrier travel with your wrist to minimize exposure to water, steam and flame.
Zip-In Liner - Quick and easy removal and reinstallation for cleaning and inspection.
Semper Dri™ - Reduces water absorption in coat cuff water wells and yoke.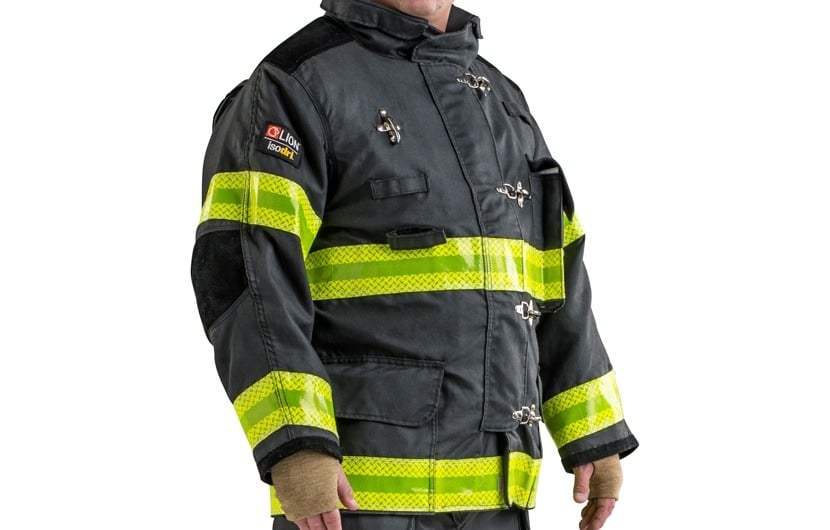 Pants Description
Low-rise pants complement the natural contours of the body for increased comfort.
Radial inseam and banded crotch reduce tension and add comfort to turnout gear.
Freedom Knee provides gusset that the knee can fall into when crawling, climbing, bending and kneeling.
Knees with Lite-N-Dri™ Cushioning - Standard two layers of water-resistant cushioning provides additional thermal protection in a high compression area. Additional layers of Lite-N-Dri and silicone available.

Semper Dri™ - Repels water in the bottom of the pant to keep workingweight low and help prevent wicking of undesirable liquids up the pant.
Kick Shield - Helps protect high-friction area on pant.
Available in a wide range of custom sizes to fit your needs.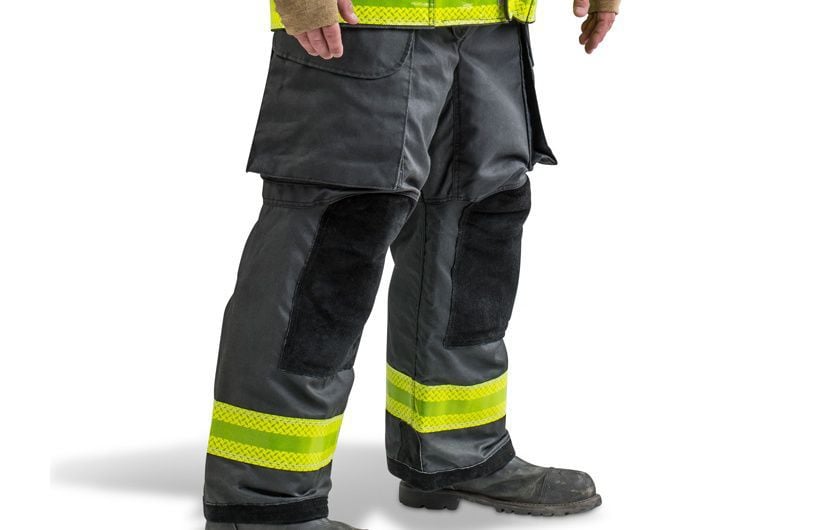 Training Opportunities
The R.A.C.E. Station expands extinguisher training beyond simple fire extinguisher operation. Practice the proper emergency response steps and decisions from the recognition of the fire to the extinguishing of the flame.
Extinguisher Basics
When paired with the BullsEye™ Digital Fire system, the R.A.C.E. Station provides the necessary tools to respond to simulated fire emergency scenarios.
Technique Training
Use the R.A.C.E. Station to help trainees practice the proper response steps in a fire emergency before and including extinguishing the flames.
Managing Fire Difficulties
Trainer can help students learn how to manage different types of fires and situations.
Real-Life Preparation
Transportable system makes it easy to learn how to respond to fires outside of the classroom.
More From LION
BullsEye™
Laser-driven fire extinguisher training system allows you to train safely in any setting.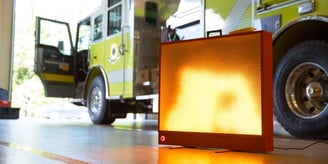 LION Training Complexes
Complexes can be designed to simulate neighborhoods, communities, cities, airports, industrial complexes or any other multi-building center.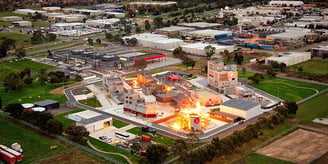 HazMat Training Props
Our HazMat training props provide a variety of hands-on and repeatable chemical and industrial emergency response training exercises.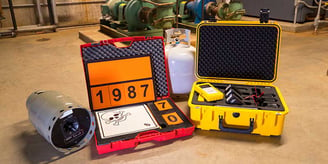 Electric Cut-Off Prop
Teach trainees to recognize the characteristic sounds of an electrical fire and react appropriately. After pulling the cut-off, the fire arcing sounds will cease, indicating that it is now safe to extinguish the fire.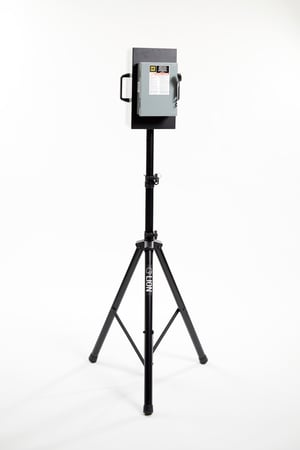 "Why LION? I have interacted with firefighter survival equipment manufacturers for over four decades, but I haven't met any that come close to LION with their sincere and proven interest in understanding (aka LISTENING) to what we, firefighters, genuinely need. Their endless pursuit to listen to the "voices of firefighters" and then utilizing the latest proven firefighting research results in bunker gear that supports us in best taking care of those who need us, as well as each other. From their demonstrated commitment in providing us with what we genuinely need to do the job, to their full and hands on involvement (in research and fiscal support) with the battle to reduce firefighter cancer, LION isn't just words- they are proven action with impressive results."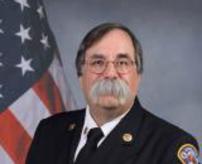 Billy Goldfeder | Deputy Fire Chief Loveland-Symmes Fire Department
"Recently, the Baton Rouge Fire Department accepted delivery of the ITS Xtreme fire extinguisher training prop and we have hit the ground running. We have trained over 200 people in the proper use of a fire extinguisher in approximately 6 weeks. This new technology is leaps and bounds better and more efficient than the old training method of the burn pan and carbon dioxide extinguishers. We are able to take full advantage of the ability to recharge the extinguishers onsite, thereby allowing us to reach more people effectively. This unit is exponentially easier to setup, use and maintain than previous methods."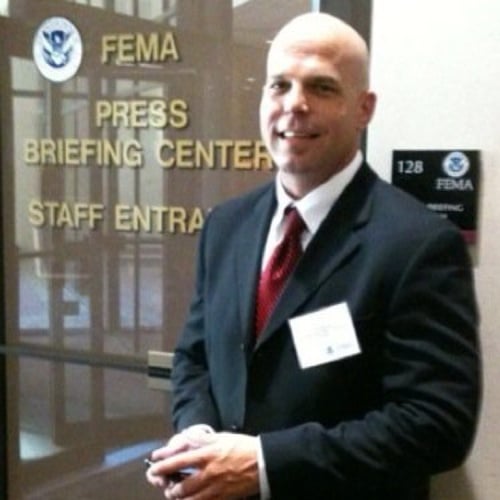 Clint L. Sanchez | Baton Rouge Fire Department
"When you combine ease of use, quick set up and tear down time, actual training time, and SAFETY of this training system, there is nothing out there comparable."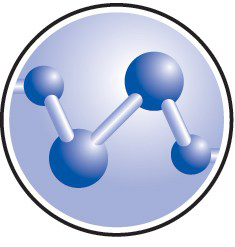 George Ostrom | Safety Asst, AMRI Global
"The customer service has been awesome! I did have a problem with one of the fire extinguishers when it was first delivered. I made one phone call and spoke with a technician who immediately sent out a brand new extinguisher. They have contacted me often to make sure that I was completely satisfied and wasn't having any further problems. It's not too often that you can not only get a great product, but also great service. I would highly recommend it to others."

Denita Lynch | High Point Fire Department
"I have trained about 125 employees for one company, with great success. The system is very easy to set up, as well as to operate."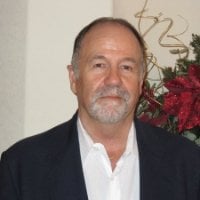 Pat Patterson | President LAAP, Inc.
"Thanks to [LION], we have directly cut over $1,000 annually from our contracted fire training and since we have been able to easily train staff, the system has paid for itself; given the cost of contracting out this training to the number of staff we trained ourselves."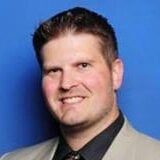 Dylan Hayes | Disaster Response Manager, Seattle Children's Hospital