BRANDBLUSSERTRAINING MET LASERS
Overal trainen

Train op elke locatie waar brand kan ontstaan: op kantoor, op school, in een ziekenhuis enzovoort.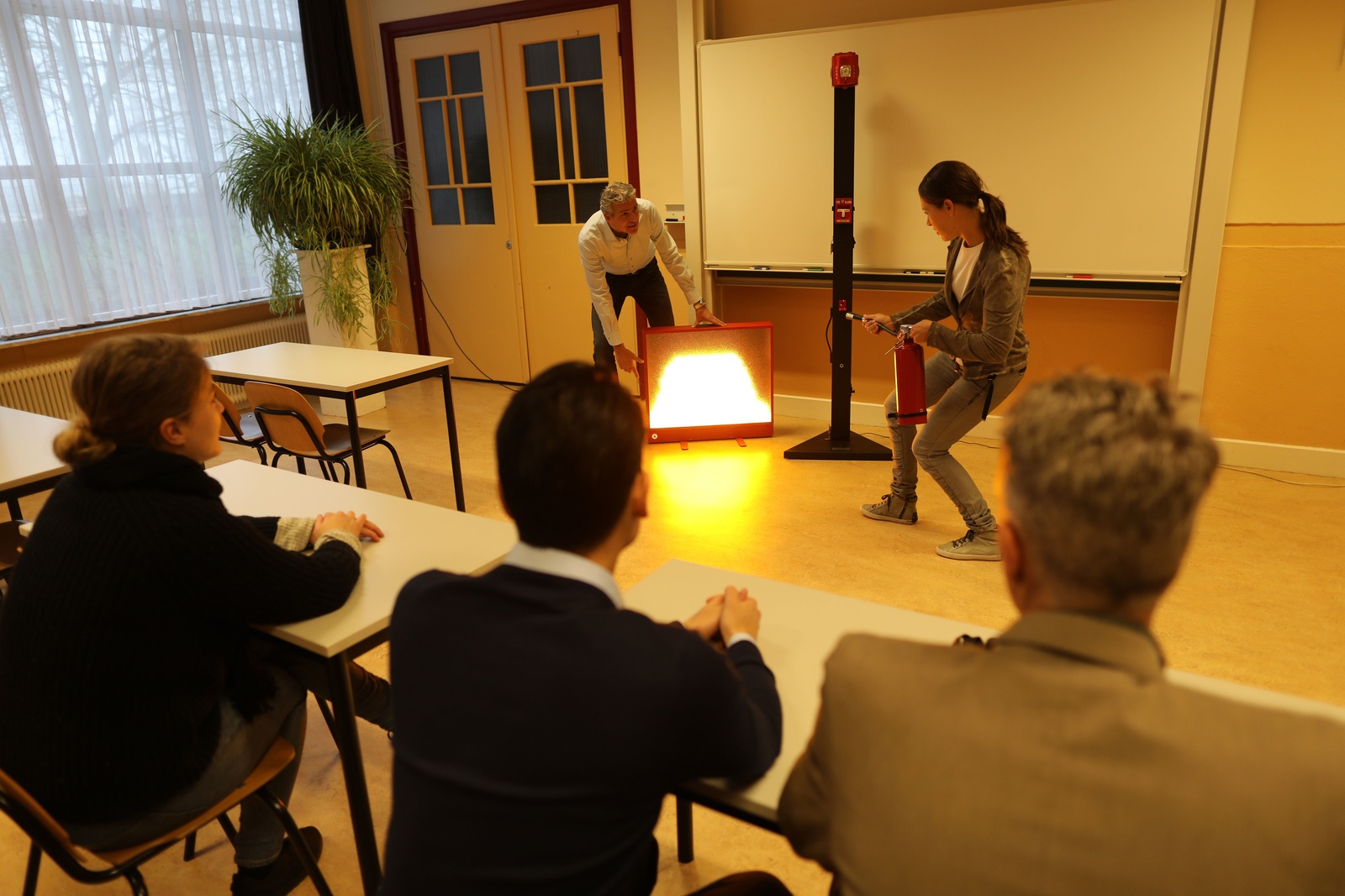 Vermijd het schoonmaken achteraf

Vergeet de poeder- of CO2-blusser; dit systeem laat geen rommel achter om op te ruimen.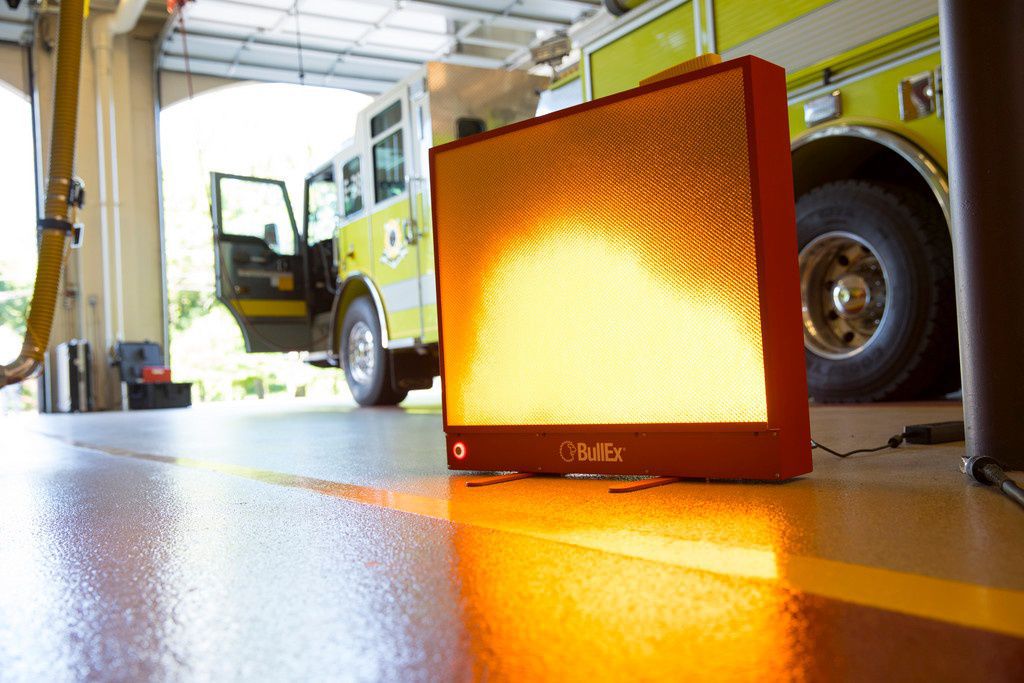 Realistische eigenschappen

De vlammen reageren net als bij een echte brand, voor een extra intense ervaring.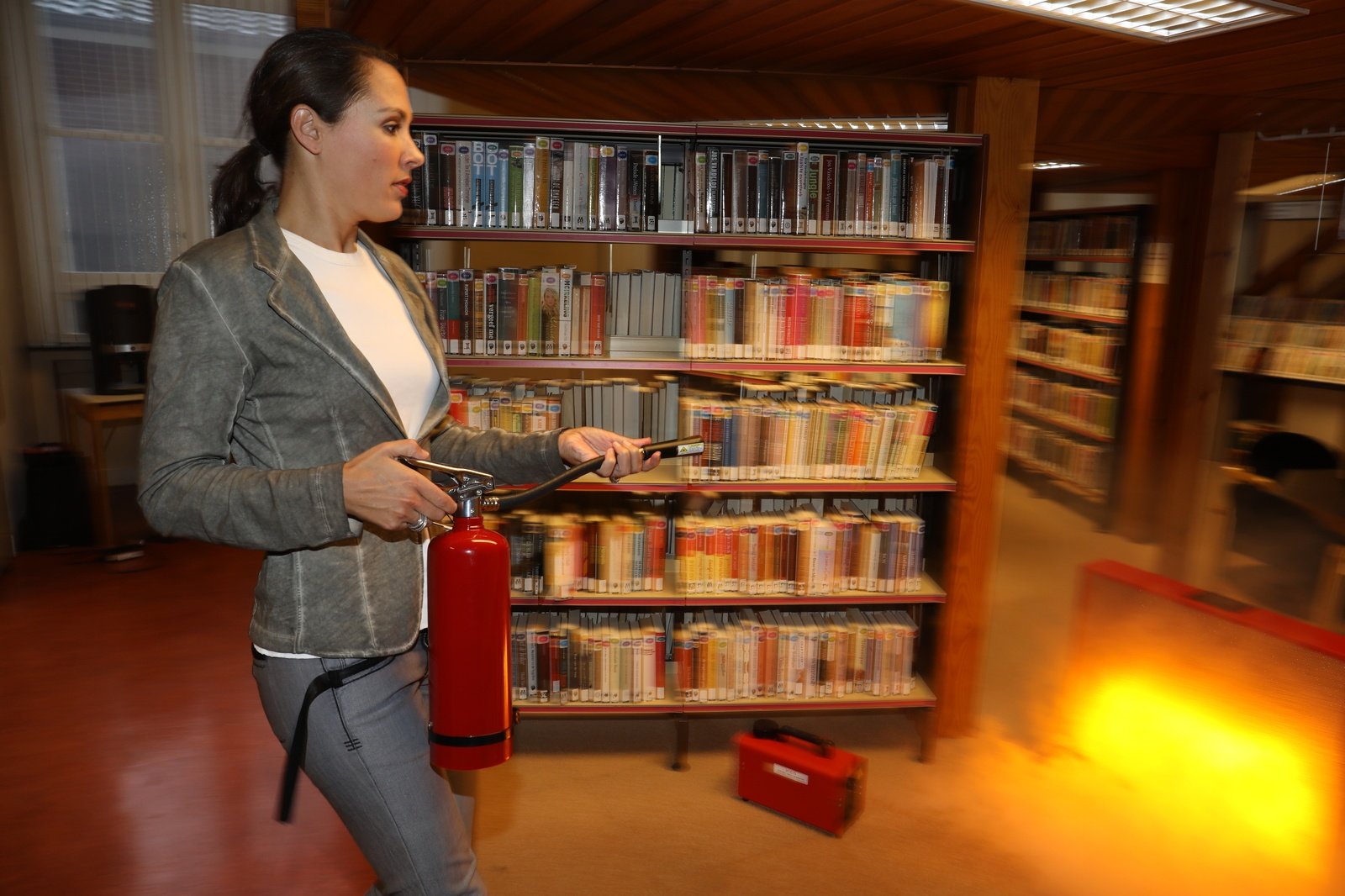 Maak draadloos verbinding met meerdere props

Creëer het ultieme trainingsscenario door verbinding te maken met een rookgenerator, elektronisch afsluitventiel en het RACE-station.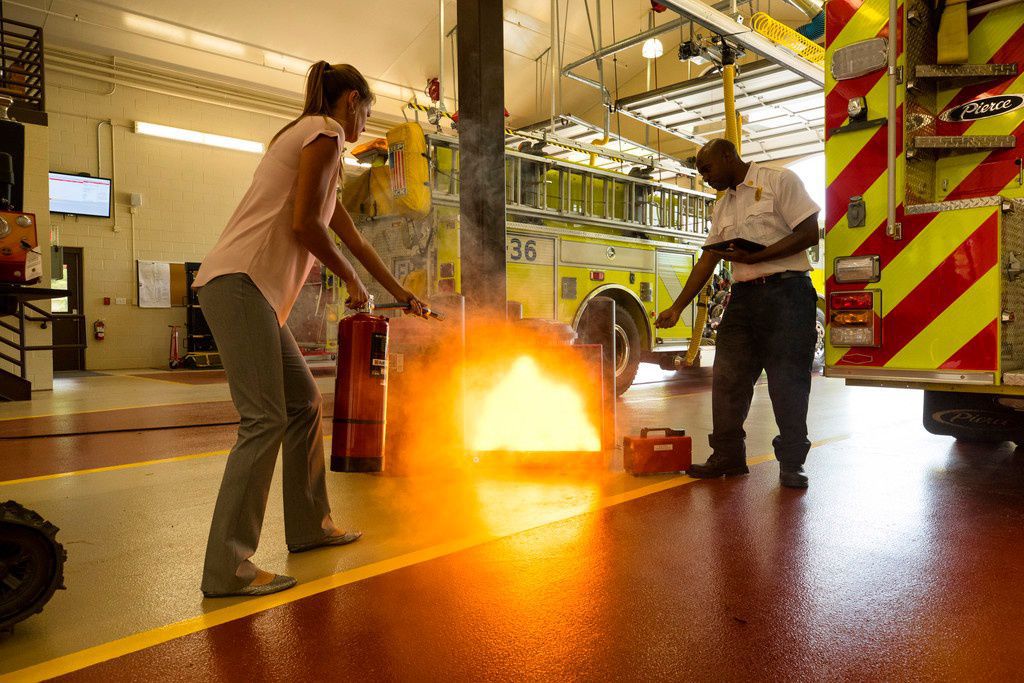 Hoe werkt het?

Geavanceerde sensoren
BullsEye registreert waar de cursist staat, of hij de trainingsblusser correct richt en of hij het mondstuk van de brandblusser op de juiste manier heen en weer beweegt.

Responsieve technologie
Afhankelijk van de door de instructeur ingestelde moeilijkheidsgraad worden de vlammen groter of kleiner. Ze reageren op hoe de cursist probeert de gesimuleerde brand te blussen.

EBrandblusseropties
Cursisten kunnen voor het blussen van de digitale brand gebruikmaken van een lasergestuurde infraroodblusser of een SmartExtinguisher met perslucht of water.

Directe feedback
Om de brand met succes te blussen, moet de cursist de blusser heen en weer bewegen over de kern van het vuur. Als de cursist net onder of boven de kern mikt, worden de vlammen wel kleiner, maar doven ze niet volledig.

Fire Technology
For your aviation fire trainer, choose between digital technology and gas-based. Both offer realistic, repeatable evolutions for firefighters in a safe and controlled environment. Our projects all feature intelligent controls which make fires repeatable to decrease downtime and increase training time. Every system includes built in safety features to keep your trainees safe and provide ample teaching opportunities.
Trainingsmogelijkheden
Gesimuleerde vlammen
De digitale vlammen op het ledscherm en de lasersimulator creëren een dynamische en realistische simulatie voor de cursisten, maar dan zonder de gevaren van een gebruikelijke brandblustraining, en met de mogelijkheid om de oefening te herhalen.
Geen schoonmaakwerk
BullsEye heeft een conische laserstraal die de straal van een brandblusser repliceert, wat het gebruik van een poeder- of CO2-blusser overbodig maakt. Een schonere manier van trainen dus.
Overal trainen
Omdat de lasersimulator alleen laserlicht uitstraalt, kan de brandblustraining nu vrijwel overal worden gegeven waar brand kan ontstaan, zowel binnen als buiten.
Rookscenario's
Uitgerust met draadloze technologie voor communicatie met uw rookgenerator. Instructeurs kunnen de hoeveelheid rook handmatig instellen of het systeem instellen op automatisch of gekoppeld aan de omvang van de brand en de tijd die is verstreken sinds het ontstaan ervan.
Meer van LION
BullsEyeTM laserbrandblussers
De lasergestuurde brandblusser bootst de werking van een echte blusser na. Er zijn veel verschillende soorten en groottes verkrijgbaar.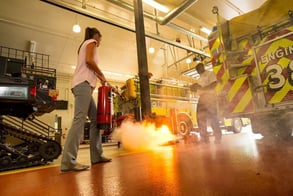 Roosterbeheer
Met roosterbeheer kunnen instructeurs de cursisten en hun prestatieverloop in de gaten houden. Houdt trainingsgegevens bij en exporteer ze naar een USB-schijf voor informatie-uitwisseling, administratiedoeleinden en het afdrukken van certificaten bij afronding van de training.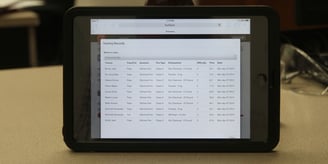 iPad-bediening
Met de optionele tabletbediening kunnen instructeurs de brandklasse, moeilijkheidsgraad en tijdslimiet instellen. Laat de vlammen oplaaien of voeg rook toe. Deze iPad is uitgerust met een beschermhoes.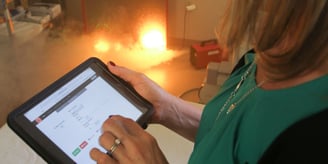 Scenario's aanpassen
Met deze functie kunnen instructeurs scenario's creëren en opslaan voor later. Bovendien kunnen ze instellen wat het effectieve bereik van de brandblusser is, welke brandblussers moeten worden gebruikt om de brand te blussen en de tijd die de cursist krijgt om in te grijpen.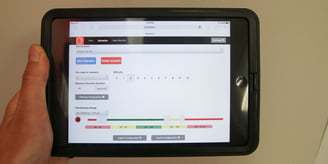 BullsEyeTM transportkoffer
Robuuste kunststof transportkoffer voor het vervoeren van de BullsEye-unit naar de trainingslocatie.
"Why LION? I have interacted with firefighter survival equipment manufacturers for over four decades, but I haven't met any that come close to LION with their sincere and proven interest in understanding (aka LISTENING) to what we, firefighters, genuinely need. Their endless pursuit to listen to the "voices of firefighters" and then utilizing the latest proven firefighting research results in bunker gear that supports us in best taking care of those who need us, as well as each other. From their demonstrated commitment in providing us with what we genuinely need to do the job, to their full and hands on involvement (in research and fiscal support) with the battle to reduce firefighter cancer, LION isn't just words- they are proven action with impressive results."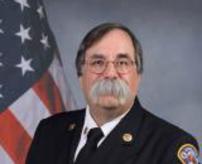 Billy Goldfeder | Deputy Fire Chief Loveland-Symmes Fire Department
"Recently, the Baton Rouge Fire Department accepted delivery of the ITS Xtreme fire extinguisher training prop and we have hit the ground running. We have trained over 200 people in the proper use of a fire extinguisher in approximately 6 weeks. This new technology is leaps and bounds better and more efficient than the old training method of the burn pan and carbon dioxide extinguishers. We are able to take full advantage of the ability to recharge the extinguishers onsite, thereby allowing us to reach more people effectively. This unit is exponentially easier to setup, use and maintain than previous methods."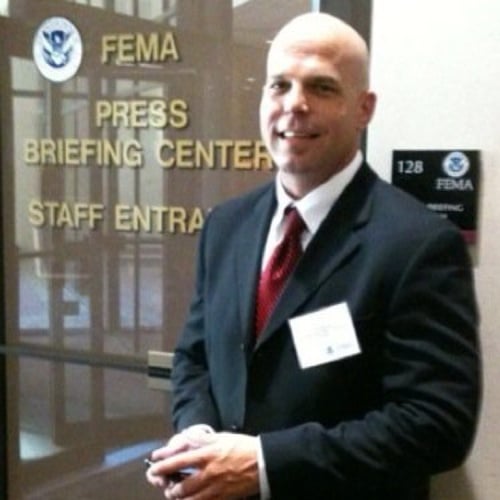 Clint L. Sanchez | Baton Rouge Fire Department
"When you combine ease of use, quick set up and tear down time, actual training time, and SAFETY of this training system, there is nothing out there comparable."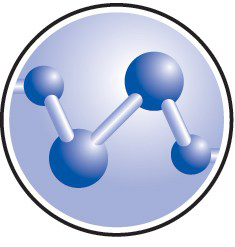 George Ostrom | Safety Asst, AMRI Global
"The customer service has been awesome! I did have a problem with one of the fire extinguishers when it was first delivered. I made one phone call and spoke with a technician who immediately sent out a brand new extinguisher. They have contacted me often to make sure that I was completely satisfied and wasn't having any further problems. It's not too often that you can not only get a great product, but also great service. I would highly recommend it to others."

Denita Lynch | High Point Fire Department
"I have trained about 125 employees for one company, with great success. The system is very easy to set up, as well as to operate."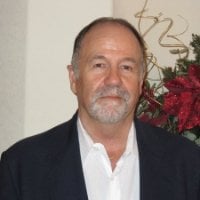 Pat Patterson | President LAAP, Inc.
"Thanks to [LION], we have directly cut over $1,000 annually from our contracted fire training and since we have been able to easily train staff, the system has paid for itself; given the cost of contracting out this training to the number of staff we trained ourselves."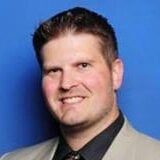 Dylan Hayes | Disaster Response Manager, Seattle Children's Hospital