ADVANCED PRINCIPLES OF PPE
Lodging, Transportation, Food and Additional Information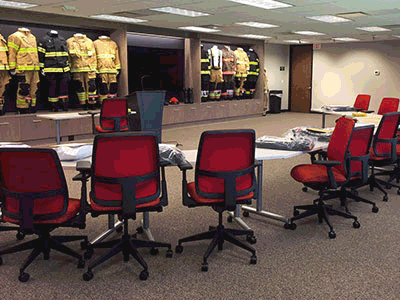 Lodging:
Rooms have been reserved for you at the Springhill Suites (3591 York Plaza Ln, Dayton, OH 45414); phone number is (937) 280-4150, rooms will be available for your arrival on Monday.
PLEASE NOTE: All rooming arrangements will be made for you by LION. DO NOT contact the hotel directly for any arrangements! If you have any concerns or questions, please contact Melissa Kirk at mkirk@lionprotects.com or 937.415.2817
NOTE: LION is responsible for the room charge and associated taxes. You will be responsible for any incidentals charged to your room.
Arrivals:
Make your arrival plans for Monday before 3:00 p.m. If you are flying into the Dayton International Airport, you will be transported to the hotel by Dayton Charter Vans. If your arrival is delayed for any reason, please contact Dayton Charter Vans at 937.898.4043 so that they may adjust your pick-up time.
Upon your arrival at Dayton International Airport and collection of your luggage, exit to outside through main entrance, cross walkway and approach booth on right. Charter Vans will be awaiting your arrival and transport you to the Springhill Suites.
If you plan to attend the Plant Tours on Monday, please make your arrival plans for Sunday at Blue Grass Airport in Lexington, KY. Upon arrival, please Uber to the selected Lexington, KY hotel. Hotel information will be provided in future email communications. A team leader will transport you to and from the Kentucky plants and back to Datyon Monday evening.
Departures:
Please make your departure plans for Friday; 2 pm or after from Dayton Airport. For your convenience, Dayton Charter Vans will provide transportation to Dayton International Airport upon the course's conclusion on Friday.
Transportation:
You will NOT need to rent a car. Our assigned Team Leaders will provide transportation to and from the hotel to LION each day and for the dinners each night. Plan on departing the hotel lobby at 7:30 a.m. each day the course is in session unless otherwise noted.
If you have driven your own car to the hotel, you will not need to drive it to LION. You will be assigned to a Team Leader and will travel with your group during program hours. Check your assignments on your arrival at the hotel and use the designated Team Leader for transportation. Transportation to the airport for your trip home is also provided by Dayton Charter Vans.
Meals:
Beverages are provided during daily training sessions (coffee, soft drinks, water). The Springhill Suites offers a FREE hot breakfast each morning. Lunch and mid-afternoon snacks will be provided each day at LION and LION and/or a supplier partner will host dinners each evening. If you have special dietary needs, please note them on the Participant Information form so we may accommodate them where practical.
Location:
LION University
7200 Poe Avenue, Suite 103
Dayton, OH 45414
lion-u@lionprotects.com
937.415.2952
844.746.3336 Fax
Times:
Sessions usually run from 8:00 am to 5:30 pm most days; some days will vary slightly. Breaks are provided throughout the day with lunches normally scheduled for an hour; both allowing time for you to conduct business.
Attire:
Dress for the week during the daily sessions will be business casual. If you prefer, you can switch into casual dress (nice jeans and shirt) for the evening activities.
What should I bring?
LION will provide all of the supplies necessary for the course. Laptops, tablets and mobile phones will not be required for the course, but we respect you may want to bring them to take notes or conduct business during your visit.