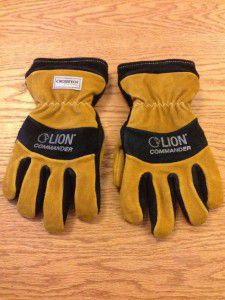 Please check out volunteer firefighter Zach Miller's ongoing review of the new LION Commander on his blog:
I am so excited to be doing this FIRST Gear Review for the Lion Commander Structural Fire Fighting Glove! Five days ago I posted a Tweet tagging some Fire Service Industry leaders in manufacturing of gear, tools, PPE and Apparel. Within 5 minutes of the Twitter post, Lion Apparel Tweeted back that they were IN, to be the FIRST Company to have a Gear Review done by the RidingBackwardsFF blog!

I had no idea that Lion was a fire service manufacturer so close to me. I found out that they are located in Dayton, Ohio which is roughly a two hour drive from Mansfield. I actually have family in the Dayton Area. Anyway, they offered to send me a pair of their Commander series structural fire fighting gloves. Lion offers these gloves in both gauntlet and wristlet style types. I requested the gauntlet type as my issued duty gear has the wristlets built in. I was unsure of the size i needed as the tag in my current gloves (Pro-Tech 8 Titans) has worn away. The Lion Rep offered to send me both small and medium gloves to see which fit best. She even said to keep which ever pair didn't fit to see if another department member can give me some input also!
Read the full review here.