The Fire Service Occupational Alliance was formed to address the issue of cancer with a common voice among the fire service. To do so, the alliance created and held the first Fire Service Occupational Cancer Symposium in Phoenix, Arizona to continue to improve education, prevention measures and support for firefighters and their families affected by cancer.
Presentations and workshops covered a variety of topics including current research, prevention strategies, presumptive legislation, and available first responder benefits.
LION attended the symposium, and provided Not in Our House resources for attendees to take home. Below, are some of the most relevant facts, studies, and statistics presented during the symposium.
Safe Training | Toxicology Letters 192 (2010) 61-65
Studies were conducted to measure firefighters' exposure to carcinogens while in smoke diving simulators. Here are some helpful results from the studies that determine levels of safety for certain fuels:
The highest exposures were measured during the burning of conifer plywood and chipboard, and the lowest with pure pine and spruce wood.
The safest burning material was propane.
It is crucial that polystyrene foam no longer be burned.
Types of Fires and their Risks | Douglas E. Evans, PhD, Exposures and Cancer Risks: Potential for Inhalation
Vehicle Fires- have the potential for short, high concentration of particle exposures, which are greater in cabin fires than engine fires. Command and apparatus should be positioned upwind if possible, and firefighters should wear SCBA throughout response.
Structure Fires (Study 1 &2) have the potential for very high concentration of particle exposures. Command and apparatus should be positioned upwind when possible and firefighters should wear their SCBA throughout response.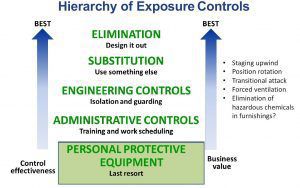 Quick Tips on What You Can Do Now |Gavin Horn, IFSI Research, Exposures and cancer risks: What can we do NOW?
Gross on-scene PAH decon is most effective with wet soap over dry brush, and air brush
Air out your PPE in open spaces to get rid of VOCs (volatile organic compounds)
Launder hoods regularly after each fire response
There is a 54% reduction in neck contamination using skin cleansing wipes
Differences in Exposure | Kenneth Fent, PhD U.S. Public Health Service National Institute for Occupational Safety and Health (NIOSH) Where Are We Going: An Overview of Current Research
High intensity, short duration exposures include:
Respiratory irritants, sensitizers, and asphyxiates that can overwhelm the respiratory system
Particles that can precipitate cardiovascular events
Carcinogens that may present a greater risk of cancer
Exposure to PAHs, phthalates, flame retardants, and metals extend beyond the fireground on your turnout gear.
The neck is the most exposed part of the skin, and there is a biological uptake of PAHs and benzene despite wearing a SCBA throughout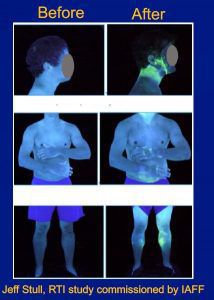 Points to Remember about Presumptive Law | Lori Moore-Merrell, PhD, International Association of Fire Fighters, Presumptive Legislation
Understand your states law, and how it is written
Understand how your State/Province defines the balance of probability (case law)
Coverage in sates with Presumptive legislation is not 100% guaranteed
Take the Pledge!
Take the pledge to do all you can about cancer prevention today on the Not in Our House website.